The Legacy of Paul Nicholson
Aphex Twin's encoded take on recognition mechanizes out of techno's resistance to naming. The renowned 'A' logo remains a constant, but the utility of type undoes itself. Reproducing Richard D. James' face into distortion and measuring every space while also undoing them, each detail is a cipher at work. The iconic logo continues uninterrupted, affecting how techno is looked at today.
Alien and drawing inward, Paul Nicholson is a graphic and type designer responsible for the amorphic logotype emerging first on the 'Xylem Tube' EP sleeve then later on 'Selected Ambient Works 85-92' and 'Selected Ambient Works II'. His work challenges techno's often Helvetica-centric visual language and offers a perspective on the experimental potency of type. After a mild public disappearance by RDJ, the logo made a reappearance in 2014 on the 'Syro' sleeve work. Working with The Designer's Republic (TDR), most of Aphex Twin's visuals, type-, and logo-face begin with RDJ's early interest in Nicholson's execution.
From redrawing record sleeves in his free time to social media and anime inspiration, SNUFF asks, what is type?
First off, who are you and what do you do?
Hello. I am Paul Nicholson and I design.
What were some of your influences growing up?
I was brought up in a Northern English town, Harrogate, close to the city of Leeds, in the magnificent county of Yorkshire. As a kid, I was always doing stuff - drawing, painting, building Lego, and plastic model kits, etc. I guess I always had the creative bug. Around the time I was nine, I got into doing custom paint jobs on die-cast toy cars. As I had enamel paints for model kits, I pretty much ended up painting most of my toys. One in particular that I remember was to put a Confederate flag on top of a red Ford Torino. Fans of 70's TV shows will know that I had converted the Starsky and Hutch 'Big Red Tomato' into the Dukes of Hazzard 'General Lee'. I swapped that car with Guy Olsen - I wonder if he still has it.
Degree-1992-4.jpg from Paul Nicholson's archive
I got into music from an early age, but my first love was 2-Tone and Ska, so we're talking '79. I not only got into the music but also the design of record sleeves and logos - I would endlessly redraw the Specials, Madness, and Stiff Records logos during lessons on my school books and rucksack. Back then, rucksacks were mostly ex-military, cotton-canvas, and easy to customize with a Biro.
This is the point in time when I was first excited about the combination of music and design. Design was not used to simply package vinyl, but to represent a scene. After all, 2-Tone and Ska were very much about style.
This set me on the path I have journeyed for all of my life and could be described as a defining moment. By my teens, getting into fashion and the way I looked, customizing shifted to clothing. As a BMX kid, I'd cut stencils of the Haro and GT logos and spray-paint designs onto long-sleeved T-shirts, creating my own 'on the cheap' race jerseys. I say 'on the cheap' because at that time a race jersey would be a US import and very expensive. I loved BMX and still have a passion for bikes. I have never learned to drive and exclusively got around London by bike.
Even now the customizing bug is still with me – every 18 months or so I will strip down each of my three bikes and come up with a new paint scheme. My next project is to paint my 2004 Kona Explosif in the colors of Capt. Robert Olds' F4 Phantom 'Scat XXVII'. Olds famously masterminded the 1967 Operation Bolo during the air war over Vietnam. Like his F4, my bike will be brown, olive green, and dark green camo.
As it happens, my first paid design job would be when I was 16, hand-painting clothing for a local clothing store, the artwork inspired by WWII aircraft nose art. I guess some things never change. The T-shirts and jackets I hand-painted as a kid would be the foundation of what I would be doing for many years down the line at Prototype 21 and Terratag; both fashion brands I ran based around the T-shirt. I would say my interests are eclectic and that my work is the sum of all the things I have gotten into over the years, an amalgamation of many styles and elements.
Terratag_Notting_Hill-Carnival-2010.jpg from Paul Nicholson's archive
One constant has been Japan. My interest, or quite possibly obsession, has its roots in building Tamiya model kits. Christmas morning, 1978, and the rush of excitement as the paper is torn. Amid the chaos one present stands out: Tamiya's 1/24th scale Toyota Celica LB Turbo Gr.5. The illustration of a sleek race car set against a pure white background, even as a kid, it reeked of cool. The quality of the kit was second to none and the instruction sheet a work of art in itself. This early experience left an indelible mark and forged a profound love of this Japanese company and, ultimately Japan. As I explored more aspects of Japanese visual culture, the imagination, style, and artistry blew my mind. I was particularly drawn toanime, especially the giant robot genre, and in particular the animated TV series, Gundam. I love sci-fi, technology, and the shock of the new and what better icon for my love of all things futuristic than a kick-ass robot.
My obsession with Japan grew, although it is a culture I will never fully comprehend, its influence has permeated through much of my artwork. Not through copying, but from taking the energy, vibrancy, color, and transplanting it within a western context, adding into the mix other cultural references, primarily from my love of electronic music, art, graffiti, skate, and BMX.
I know many artists who tend to "hoard" things that they find inspiration from whether it be movies, magazines, scraps of paper, clothes, etc. is there anything you find yourself holding onto?
I am not much of a collector. I tend to buy things, keep them a while, and then get rid of them. But I do hold onto books, which I dip into now and again to spark an idea or just for the sake of looking at beautiful things. I have, since the first days of search engines, used the internet to research ideas and seek inspiration. I am forever trawling the Tumblr, Pinterest, and Instagram, anything visually interesting is an influence - art, architecture, photography to pop-culture junk, hazard warning signs, or aircraft markings. As I find images I like, I save them to my hard drive. As time passed, the need to organize and arrange the images into folders became necessary and is now an important part of my creative process as I absorb everything and look for new ways to design. This image data bank is currently at 87,607 files and is being added to every day.
Are there any specific projects you like more than others?
I like the whole thing about working with ideas, the challenge of being given a project, and having to come up with something from scratch. As a designer, I wouldn't say that I have a singular or defining style. If you take the aforementioned Designers Republic, they have a very strong visual identity, and anyone going to TDR is specifically after the TDR stamp; that look is uniquely Ian Anderson. Whereas I try to approach every project with a blank slate and let the starting point be in tune with the project. That's where it gets exciting, that you have a different starting point every time. You're not in your comfort zone of "This is what I do. This is my style. Take it or leave it." It's more about trying to find a unique response to a given set of inputs.
When I work with people, I ask for a mood board, and this isn't specifically graphic design. It can be anything that they're into, whether it's nature, plants, animals, it could be buildings they like, objects, machinery, artwork, anything. Once you get a feel for it, you tend to find that certain shapes and design directions work. It's instinctive, intuitive, just something that feels right. Because I do not actively approach or contact people it is safe to say that when I am invited to work on a project it is because that person is already aware of my work. Obviously, as with any designer, you read the brief, ask questions, determine what is needed, and make sure everyone is on the same page. With this understanding, I begin brainstorming and start putting down ideas, giving a variety of possible directions.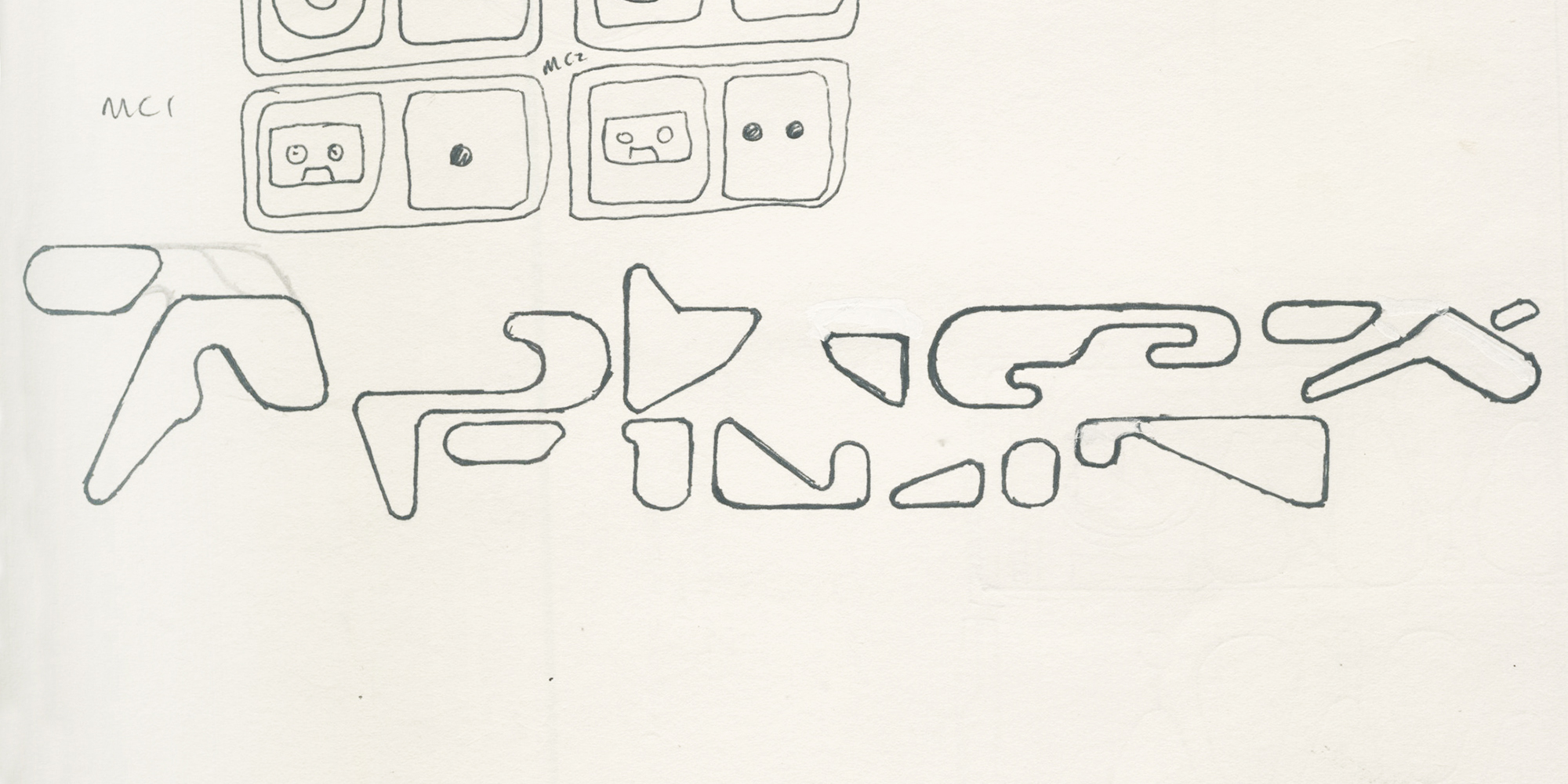 Aphex-Sketch-06.jpg from Paul Nicholson's archive
Through feedback and fine-tuning, you work your way toward the final design. At the moment, I work with a couple of small record labels who give me a lot of creative control. With each of these labels, I've found different ways of working, usually, ideas that had been sitting in my head or just something I wanted to do. It is an opportunity to try out new ideas – it might be that I'd like to photo-bash and create spaceships out of various bits of photographs, or taking a photo of fractured concrete and creating a typeface.
Having the opportunity to design with a large degree of freedom means the process and end product are much more rewarding. If I were to pick the thing one I love most about design it would be typography. I simply love to work with type. In the case of logo design, I see little point in creating a logo symbol and then simply using an off-the-shelf font for the logotype. I see a lot of logo design where the logotype looks like an after-thought, where the designer is like "Oh, shit! the logotype. OK, should it be Futura, or Helvetica or whatever." It's just insanely boring and to not even add a few elements to the type or break bits off so that it is at least a derivation of the typeface, just strikes me as lacking imagination. I wouldn't present someone with a logotype that is simply an existing font. For fuck's sake, the very reason I am doing this is that I want to design type.
In fact, when creating a logo design, I always start with the logotype and let the logo symbol come later. For those not in the biz, a logotype is a name and a name is a combination of letters that sit next to one another. Each combination has a unique flow and balance that is dictated by how one letter interacts with the next. Once you factor in all of these attributes, I enjoy the process of bringing these together and finding through design something unique to that particular word. There are obviously rules in design that always apply; If you use lightweight fonts, it has a different feeling to when you're using bold, and similarly with rounded edges or sharp edges. There are tools in your toolbox that allow you to play with the design to achieve the desired emotive response.
Ultimately, a logo is that thing people use to represent themselves. You have to create something they are going to live with potentially for the duration of that project or for that product. If it feels right, it's going to become integral with the product.
From the time you started designing up until now a lot has changed in terms of technology. How has your process adapted to these changes?
Fuck! Don't remind me. My youth and all education including University were old-school. It was pencils, pens, paper. However, even though I have worked on computers since '93, the old tools still play an important role in the way I create. In part, it is the familiarity and what I'm comfortable with, but also, I think that there is a different process at play. A lot of the time the forms I try to create, especially in typography, are not necessarily geometric or perfectly balanced. So by sketching things out first, I'm getting more of the feeling I'm after because the hand moves a lot more intuitively with a pencil on paper than when you are moving nodes around a monitor with a mouse. And the very nature of working on a computer is that it is a vectoring device; things are on X and Y axes and you're constantly made aware of the verticals, horizontals, and the diagonals. Straight away this boxes you in and limits your natural flow of thought.
You become more clinical when you design. Whereas with a pencil it can be a lot more organic and things happen. It could just be an accidental sweep of the hand and suddenly you see something that didn't before. There's the element of chance. It's the freedom that you get with a pencil. What I like is when you take it into the computer, and you start to look at it in a bit more detail and realize, "If I just twist this clockwise by a degree or two, it's actually on the 30 (degrees)," or, "if I move this on the other side, it's a perfect mirror image." So you start to discover things that you weren't consciously aware of at the time of drawing. Sometimes you discover certain geometric balances and on other occasions you just leave it as it is. In hindsight, I would say that my art education was quite broad.
"You can take it or leave it, but if you don't get it, fuck you! You are either too stupid or too boring to give a shit about."
One of the issues I have with social media is the very premise to be 'liked'. People go out of their way to be liked. It turns a lot of the rules that were around when I was young on its head. It has also created a very punchable generation of self-obsessed narcissists.
What I do like with Instagram though is that I put stuff out there and people can like it or not. Rightly or wrongly, I don't care, because still within me is that attitude from my youth where you can take it or leave it, but if you don't get it, fuck you! You are either too stupid or too boring to give a shit about. It's not like I'm being a dick, or giving people a hard time, but this is what I do and I have neither the time nor inclination to bend to consensus or try and follow this year's trend. As much as I'm aware of certain shifts in design, whether it be Vaporwave or David Rudnick or whoever's hot right now, I won't even touch it. Furthermore, when I see that there are trends I'm more inclined to go the opposite direction. I am more motivated to NOT follow and NOT be liked. It is an integral part of being creative.
There have been many stories of when and how you created the now iconic Aphex Twin logo, what year was it created and what was the process like?
The design was created in 1991. This was in the before times, pre-computers, so the logo was hand-drawn using circle templates, French curves, and rulers. Having shown him work in sketchbooks, I knew that Richard liked my work and as we spoke more about what he was after, I knew that he wanted something that was amorphic and soft form - Something that wasn't angular with sharp edges and corners. When you do any logo, once you've handed it over, it's effectively out of your control. As good as a piece of design is, its legacy does rely upon the continued success of the individual or product it was designed for. In the case of Aphex Twin, the fact that he's remaining at the cutting edge has helped make the logo become iconic. I am not naive enough to believe that it's purely down to the quality of the design, but the fact that after 29 years, Richard is still using the logo is something I am proud of. It worked for him then, as it does now.
If you think about it, there are iconic designs within every genre of music. If it's late '60s rock and roll, it would be The Rolling Stones with the lips and the tongue. Likewise, with the Joy Division sound waves - the white lines on the black shirt. That image has probably become more recognizable than the music. So, I think there are circumstances where design can transcend music.
How many people wear a Joy Division, Ramones or CBGB shirt and know nothing about the music? It is rare in music graphics that the designer gets any recognition. Initially, after the 2015 Soundcloud file dump and then more so after the 25th anniversary of Selected Ambient Works in 2017, several things happened that raised general awareness of the Aphex Twin logo. Kevin Foakes, (A.K.A. DJ Food) kicked things off when he wrote an article which was picked up by Resident Advisor and it kind of spun out from there.
Running parallel to the interest in the Aphex Twin logo is a resurgence of interest in the '90s. Whether I like it or not, I have been kind of lumped in with that. I know that at some point people will move on and the '90s will no longer be fire. So, I'll keep pushing what I do. I'm producing enough new work to know that once this current interest in the '90s dies out, it's not as if I'm going to be thrown on the rubbish heap along with it. I have to keep moving forward because I certainly cannot rest on my laurels. There will be a point in time when people will go, "Aphex who? What's that about?"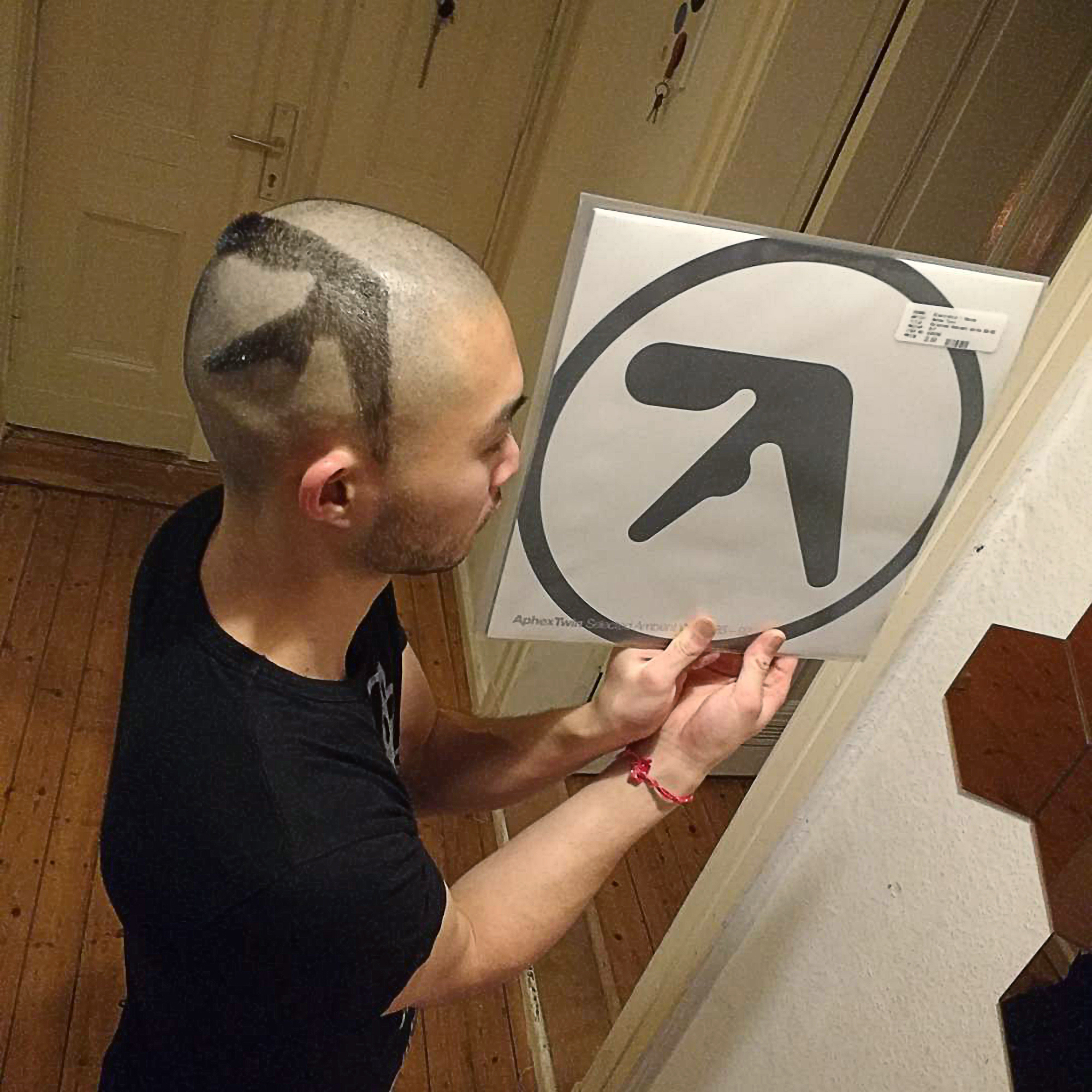 Images from Paul Nicholson's Aphex Twin archive
How'd you meet Richard (Aphex Twin)?
I was already aware of Richard's music having heard Analogue Bubblebath on Kiss Fm. At that time I would religiously tune into Colin Dale and Colin Faver's broadcasts from the 'Outer Limits' and feast on the finest electronic hardcore, noise, and experimentation. I started dating a Cornish girl who upon hearing the music I was into told me that she knew a guy that did that'kind of stuff'. Once she mentioned his name, I knew exactly what he did and wanted to hook-up. The rest, as they say, is history.
The logo has been interpreted in many ways one of which is that the logo is a dick and balls and boomerang, are there any other intrepetations you've head over the years? What do you think of them?
Over the years, I've come across some bizarre stories and recollections. Online speculation about the logo's origins and its semiotic 'true' meaning is still rife: "If you measure the angles of it and divide it by the circumference of a 12" you get the secret formula of unlocking the powers of... ", wrote one forum user. More noble efforts extend to it being an image of a SAW, inline with the 'S'elected 'A'mbient 'W'orks LP titles, or that it's related to λ (lambda), the symbol for wavelength. Others say "it's a dick with balls and a boomerang". Blah, blah, blah!
Unfortunately, the truth is somewhat more prosaic and its origins more humble. Firstly, it was and is just a letter 'A'. What I have always found amusing is that the Aphex Twin logotype appears on a very early release - the Xylem Tube EP - and clearly shows the Aphex 'A' being the first letter of the word 'Aphex'. It was hardly a mystery or well-concealed truth and should have been obvious to anyone who had seen the logotype. Furthermore, the Aphex 'A' was inspired by rough designs created for a different project.
I had been working on logos for Anarchic Adjustment, a skatewear label based in San Francisco. As it was the early Nineties and Anarchic was based in California they were keen that I explore a distinctly 'alien' vibe. Before Anarchic had had a chance to view the work, Richard had seen my initial sketches and liked where I was taking the letterforms. Being abstract with a 'not of this earth' feel, it appealed to Richard. So, I went away and drew up a logo taking elements from those Anarchic roughs on to an A4 sheet of paper. Richard instantly liked it. It didn't need any revisions or changes, so what you see now was my first and only design.
To sum up, I like what Phil Graham had to say in his article on Fontsmith.com. As a letterform, the Aphex 'A' is the antithesis of everything a type designer is taught a good letter should be. It's unbalanced, it has dark spots, it's blobby and it's illegible ... yet there's something infectious about it. It reminds me of a time when design could be 'experimental' and push aesthetic boundaries in unconventional ways. It feels 'new wave', digital, static, yet moving like a lava lamp. It's a wonder to behold! It's arrival with the sinister and emotive soundscape of 'Ambient Sound Works' conjures up feelings of Nineties nostalgia, yet Richard's music remains current and challenging, retaining a strange parallel relevance to the symbol itself. The legendary type designer Adrian Frutiger once said he had "a fascination with abstract symbols". The Aphex Twin 'A' is certainly one of the finest abstract letterforms in the music industry today.
Before the Aphex Twin logo design what type of design work were you doing, doing you have any favorites?
I was still at University when I designed the Aphex Twin logo, so I hadn't actually started working as a designer. That said, there is one logo that predates Aphex which was for a techno club called Knowledge. At the time, Knowledge was the only club in London that catered to the extremes of electronic music. Resident DJs Colin Dale and Colin Faver were epic and the night played host to some of the best musicians of the time – Joey Beltram, Richie Hawtin, GTO, DJ Tanith, Baby Ford, Laurent Garnier, Loftgroover and many more. The need for a logo design was announced on Kiss FM and out of 250+ entries, I was very pleased to have been chosen. I ended up producing a newsletter for the club and got to interview pretty much every DJ and musician who had been invited to the club. Aside from my commitments to the newsletter I would dance the rest of the night as did almost everyone in the club. It was a great time and Knowledge was by far the best nights I have ever had.
If you weren't doing design what would you be doing?
Learning to design.


Text by Jasmine Reiko
3D by Ian Campbell