Quarantined
with Matt Ox
Matthew Grau via FaceTime
Cut like Shaggy and draped in garb, Matthew Grau, known by all as Matt Ox, is a Philadelphia raised-and-based rapper. Ox started making music at 11-years-old and has collaborated on tracks with the likes of Antwon on Sunnyvale Gardens (2017) and late XXXTentacion on ? (2018). For his own debut album produced by Philly-based Working On Dying, OX (2018) features Chief Keef, Key!, and Valee in a dark ambient mix balancing chilling beats with play and grind through singles like "Pull Up" and "Jet Lag."

Ox's easygoing, devoted infusion into the trap world brought him modeling in Paris and performing at the world's largest hip-hop festival, Rolling Loud, in May 2019. For Matt Ox, the grind never ends and his ability to adapt has rung true with his growing projects and collaboration work. Equipped with crystal-clear vocals and looping lyrics, Ox invites everyone in on the challenges of love, glossy diamonds, and living overwhelming with near-sobering consistency.

How are you? What have you been up to?
MO: I've been in the studio pretty much every day. I'm just cooking up, I'm making music, you feel me? I had a video and just got back from New York yesterday.
Yeah, I saw you were in New York the other day, seems like you're still grindin'.
MO: Yeah, I got the mask, I got the gloves.
It's been 2 years since you released OX, how soon after that release did you start making more music?
MO: It's pretty much like you're gonna make music no matter what especially if this is what you love. I don't do this for show, like the money. I do it cause I really love it, you feel me? The day of the album drop, I was making music. I was in the studio, that's just my life.
So when you aren't making music, what are you doing?
MO: I'm at the crib just chillin'. I like art a lot. I feel like that could be another one of my talents, but forreal forreal, my main focus is making music. I'm in the studio every day. There really isn't a time when I'm not and if I'm not in the studio, I'm looking for a studio.
I see both you and your mom go on a lot of bike rides, hikes, just hanging out. What're some of the stuff you guys have been doing together lately?
MO: Yeah, my cousin was actually over and my little baby cousin. He's like 3 years old. We've just been running around the crib, so I was watching him. Going on hikes and stuff, I walk the dog and I usually go to the studio at night time or something.
What's your dog's name?
MO: Kira (named after the character in Death Note).
When did you get her?
MO: Like 2 years ago.
When do you anticipate releasing a new project?
MO: Summertime like June or August.
You opened for Enfants Riches Deprimes August/Winter collection in Paris last year, what was that experience like?
MO: It was different. It was crazy. It's easy, I don't know why, but modeling is really easy. It's like you just stand so it was fun for a first time experience. My shoes, they were tight as hell, but it was still cool. Courtney Love was really nice to me, I'm like this is really crazy.
Did you like Paris, how long were you there?
MO: Paris was lit. I feel like LA's more fun than Paris. Philly is more fun just because I know my people, but Paris is more like, beautiful and elegant. It's nice to do stuff and watch stuff forreal.
What are some of your favorite places you've been to?
MO: I've never been to Atlanta but I've been to Texas, Florida, New York
Matt's Mom, Laurel Grau: London
MO: London, wait we did go to London?
LG: Yeah, in the summer remember?
MO: Oh yeah, I forgot. I went to London, shot a video, I mean I shot some pictures and stuff for a photo shoot. Florida, Boston, Chicago. Chicago was fun.
New York is super close to you, when you go do you usually drive or fly?
MO: Yeah, I drive over there. It's like 2 hours.
Yeah, I feel like flying would end up taking longer.
MO: Real shit, haha.
Do you see yourself doing more modeling in the future?
MO: Yeah, definitely. I feel like as long as the right brand gets in contact with me. I'd like to model for my own stuff, my own clothes. Do crazy things.
You're 15 now, right?
MO: Yeah.
You've got a lot of time to try new things out. Besides trying to make clothes, modeling, or music, is there anything else you'd like to try out in the future?
MO: Yeah, like acting and stuff. I've done it a couple times before like scripts and practices, but I feel like that would be dope.
What have you been listening to recently, as far as music?
MO: I've been listening to a lot of Toro Y Moi, Bloom, This song called "Elliot" by Roosevelt. I've been listening to Blink-182, I like Queen. I like a lot of old stuff. Eminem, old Eminem though. Slim Shady when he was talking 'bout whatever he wants, the Slim Shady LP. That's one of my favorites. There's a bunch of people. Yeah, I don't watch TV, I listen to music.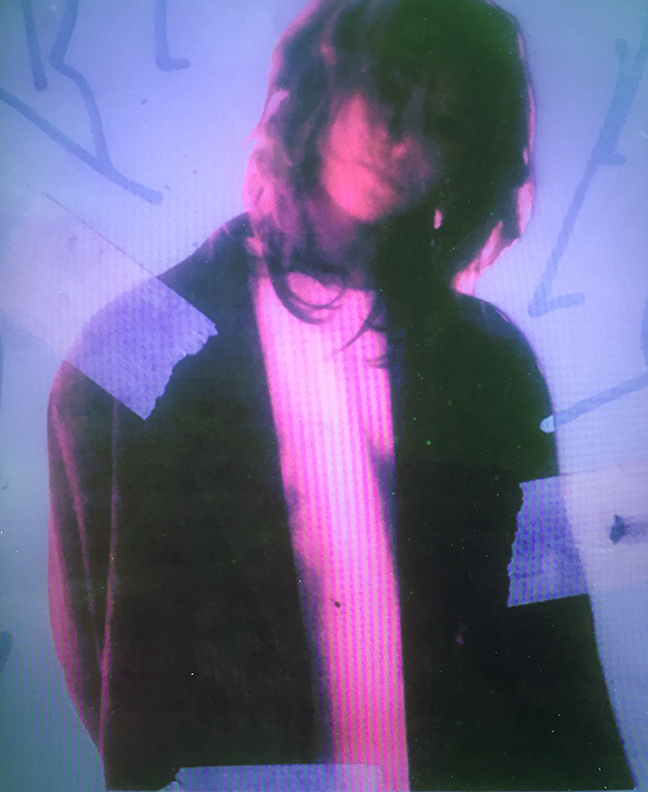 That answers my next question. If you don't watch TV what's the last thing you've watched?
MO: I watch this show on Netflix when I'm really bored called Midnight Gospel, that jawn crazy.
Are there any movies you've seen recently, do you have a favorite movie?
MO: What's that one jawn called?
LG: The Stephen King one, In the Tall Grass.
MO: In The Tall Grass by Stephen King.
What's one goal you have for this year?
MO: My goal is to create, experiment, love, laugh.
That's a good goal.
MO & LG: (Laughs)
Laurel, Usually when working on your own career and having a kid you don't necessarily know what they're going to be doing with their life, with having Matt it seems like you've got a new job. How's it been managing him and changing your focus to handle that?
LG: Yeah I mean I was a teacher before, so I left my teaching job to help do this with him. You know, it's been an experience. I feel like we've been lucky cause success came pretty quick to Matt, you know. He put out I think it was his fourth music video that went viral. It's a life change for me, but I feel like it's something I can sacrifice my time to help Matt set up for his future. I'm still young too so I can always go back to doing what I want to do in a few years. But right now my focus is on Matt. I was pretty young when I had him so I feel like for us it was different growing up. Like I was in school, and working and being Matt's mom, where now I can devote all my time being just Matt's mom. As a teenager these are the most important years to shape him as a person. It's hard, but we're so lucky that I get to do this.
Rappers seem to be getting younger and younger and in some cases when they start to reach success they start to spend less time with their family, is it sometimes hard to contain him and do "normal" stuff or just hang out?
LG: I think the first year was probably the hardest, but then things settled. I feel like I worked hard that first year to keep him grounded. Just keeping him around my family and things like that. But yeah, we're together all the time. Some days it's a nightmare, but he's a teenager. It would've been a nightmare regardless. I'm just glad, as he said he goes to the studio every day, he's still working hard every day so I have to appreciate that.
Matt, how does it feel for you to be able to spend this much time with your mom. I know being a teenager you might want more space sometimes. Do you like being so close with your mom or do you try to get away sometimes?
MO: I feel like I used to, I don't know. Now I challenge myself to just allow it, her being with me for everything.
LG: I feel like both of our priorities is to work more on our relationship. Some days we fight and some days we're cool, but we know that having each other is important.
MO: I feel like you need to fight to have joyful times.
All the songs on your last album OX seemed to really flow and were coherent with each other. How long did it take to get that project together? Do you have any other sounds you're working on?
MO: For the last one it took probably… making the music a year, but selecting the songs probably a couple months. But for this album it's gonna be different. Just very different. Mix genres too, you feel me? All different genres, it's not gonna be the same, but it's still gonna flow. Flowing in a new complex way. Yeah.
How many songs do you think you recorded or written since the last album? I know I've seen artists finish one project and already have 100+ new songs then scrap all of them to start new.
MO: I can't even count. It's too much.
LG: What did we have, over 200 songs in the email?
MO: That wasn't even all of them, that was just songs we filmed. I probably have like a thousand but since the album I've definitely made 500.
How quick is that process to write and record a song for you?
MO: I freestyle all my music. It depends on the vibe I'm in. If I'm in a cool vibe, like when I was in New York I had a few hour session and was able to record a bunch of songs because I was in that vibe but it's all about the type of song it is. It's just about what you make it and you gotta have fun with it.
All your merch is designed by you and your mom. I know you've probably had a lot of people ask to do merch for you, what's behind the decision of doing it yourself?
MO: We just decided to make some clothes. I also want to get into modeling so it just goes together.
Laurel, What's the process for you when working on Matt's merch, do you enjoy it or is it work?
LG: I don't know, I was never that artistic so I feel like when we do stuff and Matt's like "Aww, that's so good." I'm like are you just saying it's good because I'm your mom but then it's like he's wanting to put it on a shirt. I'm like uhh. I don't know but, I mean it's cool that we get to do it together. We're literally driving to the t-shirt shop to pick it up. We write everything out and mail it out to fans. It's been cool because people follow me on twitter so I'll be like "we have a lot of extra shirts of one design so whoever wants a shirt hit me up." So we get to just do stuff for people and give them that stuff and make their day or whatever, so I like that aspect of it a lot. Or like some of my friends have kids that like Matt so I'll get him to write them a note and we'll send them a shirt. Things like that, so I like that part of it. But I feel like we could use some help in the design department haha.
Text: Jasmine Reiko
Photography: Zane Olson
Styling: Bella Lucio
Collage: Wyatt Knowles